I was barely over a month into my 21st birthday back in March, 1990. Considering I never had the notion to drink, I had never thought about going into a bar. My mind would change quickly.
My brother was working at a local radio station that was giving away tickets to a private party with Depeche Mode (it was not KROQ). The event, which took place the night before the Wherehouse disaster, was going to be at a "secret location" somewhere in Los Angeles. Anyway, my brother called me and asked a dumb question: would you like to go?
Is the Pope Catholic?
He had given away so many tickets to listeners who were, more than anything, simply eager to win a prize from a radio station. The last pair, he proclaimed, "needs to go to a pair of real fans." The only downer was that relatives of station employees could not win tickets to this small event. But that's what friends are for.
My brother asked me if I could supply information for my buddy Russ, another DM fan. The two of us had been DM fans for a long time and already had a string of DM concert ticket stubs in our collection, including the best one of all: the Concert for the Masses at the Rose Bowl. I called Russ, explaining the situation, got the info, and called my brother back. Within minutes, Russ was the final winner of the contest. We had to swear not to tell anybody where this event was taking place. In case you are interested, it was at a nameless bar on Melrose across the street from the Astroburger in Los Angeles, near Paramount Studios. If you know the area, you know where I'm talking about.
Alright, the day had come. Russ and I parked across the street and checked in at the door. We were handed a cassette copy of Violator, which was also playing in the background. After about 10 minutes, the band arrived.
They quietly wandered to a table and sat down, were served bottles of Rolling Rock beer (the first time I had ever heard of it), and chatted amongst themselves. After a few drinks, they began to walk amongst the fans.
They shook hands, posed for pictures, signed autographs. I had the band sign three things: a vinyl copy of Music for the Masses, the cover to The Singles 81-> 85 CD and a small photo from the Japanese CD3 for Behind The Wheel/I Want You Now, to which Martin replied, "What in the world did you get this?" I smiled and explained. Wow, to have something the band had never even seen. Russ had a swirled vinyl 12" of A Question of Lust and a tour program from 101. Also note the Question of Lust button on Russ' DM cap. It was included in the Question of Lust UK cassette remix along with a booklet. Hard to find.
The entire event lasted only about 45 minutes. When I went to grab my last CD to have signed, they were headed for the door.
Afterwards, Russ and I went down to the Beverly Center Wherehouse and showed Violator to a few hearty souls who were waiting in line for the big event the next day. Needless to say, they were a bit jealous.
Between the two of us, we managed to take the pictures you see below. The quality is not the best; I blame the lousy camera I had that night. I should have brought my trusty Minolta X370 instead.
Any questions? Send them here.
Notes: Click on any image below to enlarge it. Click on the logo above to get back to this page from any other page. And don't forget to sign my guestbook :)
UPDATE August 16, 2001
Three "new" pictures have been added at the bottom of the page. They were lost during my recent move and later found safe and sound, tucked away in my autographed copy of Music for the Masses. Enjoy :)
My old license plate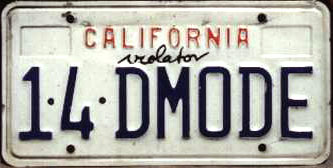 Welcome violator


Free counters provided by Honesty.com.
All images are © 1990 David A. Moreno and cannot be reused without permission. Logo © 2001 David A. Moreno.